Liberty ARC art program launches online store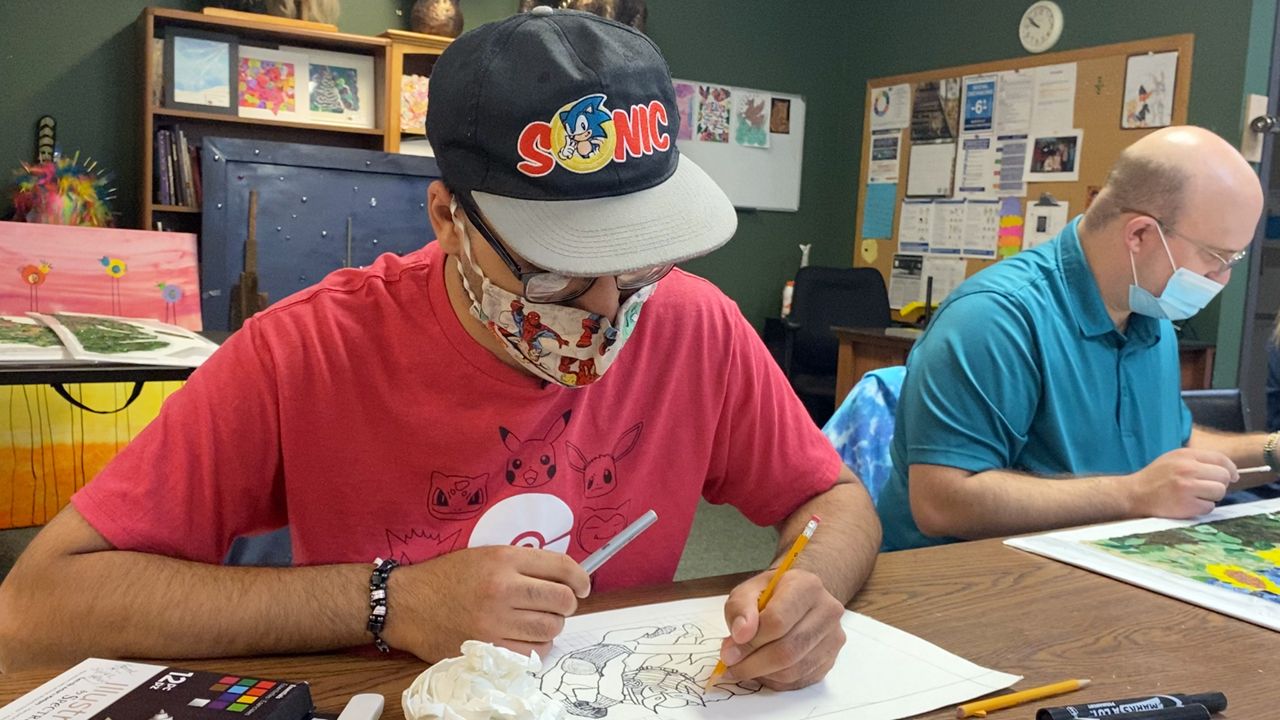 It was early morning, and Michele Michaels was already getting his hands dirty.
"I'm making a mosaic," Michaels said. "All it is is cut glass and glue it and form an image. "
Along with her friend Maggie Rodriguez, Michaels is creating a section of a mural that will eventually hang at the entrance to the Liberty ARC daytime program building.
"I'm making a tree," Michaels said, pointing to his drawing. "It's a butterfly that we make, the butterfly and it's people, like a family. It's like a family tree.
Across the table, Frank Rivera was halfway through sketching two of his favorite superheroes.
"What I'm drawing is Wolverine and Spiderman teaming up," said Rivera, who had a stack of superhero-themed paintings nearby.
With Michaels and the others in the classroom, Rivera is part of the art program at Liberty ARC.
"I have enjoyed doing art since I was in kindergarten," Rivera said.
"I like the staff who help me make art. I feel grateful, I feel happy and excited, "Michaels said.
The organization offers a range of services to nearly a thousand people living with an intellectual disability. Longtime artist Amy Devendorf started the art program shortly after starting work at Liberty 12 years ago.
"I love it when the day starts and they come in and sit down and start their art work," said Devendorf as he helped Michaels with his part of the mural.
The corridors of Liberty Headquarters are lined with artwork made by residents over the years. Operations manager John Glode believes the classes, which continued most of the time throughout the pandemic, have had countless benefits.
"I think what it's done for a lot of people is give them a sense of accomplishment and in some cases give them an identity; they're an artist now, "Glode said.
Hoping to expand the impact of the program, Devendorf came up with the idea of ​​launching an online store showcasing the artists' work about a year ago. The site finally went live earlier this fall.
"I always dreamed of having an online store with them," said Devendorf. "Everyone needs to see their works and see what they are doing. "
Through the site, buyers can personalize dozens of items with images created by Liberty artists. A popular seller is a sunflower that Michaels helped create.
"If you want a water bottle we'll put it there, or if you have a pillowcase we'll put it there," Michaels said as she stood in front of the large framed picture of the sunflower, which was made with cut pieces of magazine paper. "Whatever you want on it, they'll put it there for you."
A portion of the sales will help cover the cost of the new supplies. The artists will also receive a commission.
For Rivera, Michaels and their peers, seeing a market for their masterpieces is a new point of pride.
"I'm glad I challenged myself to make myself happy and proud and improve myself," Rivera said.
"I'm very happy that I did a really good job, and I'm happy and grateful," Michaels said.