The Fine Arts Fair is online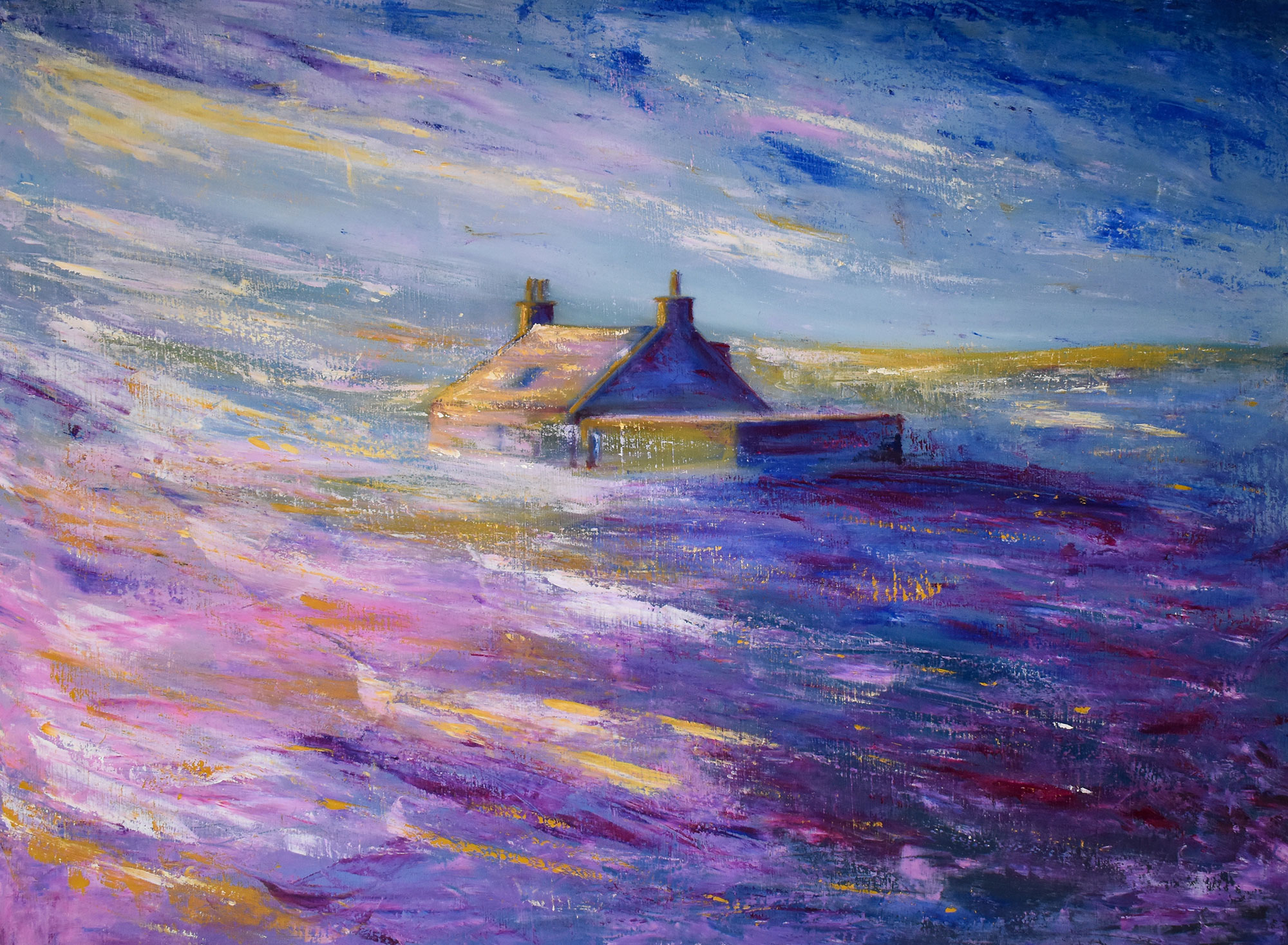 SHETLAND College's premier Fine Arts Degree Exhibition is held online, with people from all over the world able to see the work of three recent graduates.
Gemma Hoseason, Tracey Cassidy and Sean Boyle all display works of art in a virtual exhibition space.
This is the first round of graduates of the Shetland's BA (Hons) Fine Arts Study Program.
Hoseason exhibits a series of personal and highly charged self-portraits that reflect his sense of isolation.
Having had to protect herself during the initial Covid-19 pandemic, she used her own experience to produce the images which in turn also helped her console herself for the feeling of melancholy she felt during the lockdown.
Tracey Cassidy presents a series of oil paintings that are deeply rooted in her now abandoned generational family home, The Faine.
Tracey started with an image of her grandmother – the last person to live in the house – and revisited it at different seasons and times of the day to produce emotionally charged paintings that explore memory and deep connections. with the house.
Celebrating the Shetland dialect in her writings on paintings, she said: "Wir fok ir bidn on da saam laand fir mony generations and it contained endless stories.
"As I waak da saam laand my ancestors woke up, my imagination ignited with a sense of the past, reverberations of sadness and joy. Da Fain wis da hame o my Great Grandmidder Lily, whose presence I can still feel reverberates through da waas n da laand in a powerful spiritual connection.
"Although da hoose is not found in decay, the paintings survive as traces. Trees or memory bring the past to the present ".
Sean Boyle merged large-scale woodcut with oil painting to produce a series of large pieces.
Reflecting on his work, he said: "It is an attempt to both reveal and conceal my personality by combining relief sculpture and oil painting to create a picture within a picture, where the banality is obscured by the fantastic. "
Shetland College Professor of Fine Arts Paul Bloomer said: "We are delighted to be the new partner to award the BA (Hons) Fine Art degree.
"This is our first cycle of graduates and the students have found themselves in difficult circumstances due to ongoing Covid 19 restrictions. They had to deal with additional pressures and constraints that forced them to rethink their initial plans for their degrees. "
"Each one took up the challenge admirably and produced diverse and interesting works of art that are the culmination of four years of hard work. "
The online degree show, which features contributions from fine arts students from the Highlands and Islands, can be viewed online. here.
Become a Shetland News supporter
News from Shetland asks its many readers to consider starting paying for their fix of the latest local news delivered straight to their PC, tablet or mobile phone.
Journalism comes at a price and because that price goes unpaid in today's rapidly changing media world, most publishers – national and local – are struggling financially despite very healthy audience figures.
Most online publishers started charging for access to their websites, others took a different route. Shetland News currently has more than 490 supporters who all make small voluntary financial contributions. All funds are used to cover our costs and further improve the service.
Your contribution will ensure News from Shetland can: –
Bring you the headlines as they happen;
Remain editorial independent;
Give a voice to the community;
Further increase site traffic;
Research and post more in-depth news, including more Shetland Lives features.
If you enjoy what we do and are very committed to impartial local journalism, then please become a supporter of News from Shetland by making a one-time payment or a monthly subscription.
Support us from £ 3 per month – it only takes a minute to sign up. Thank you.
Already endure? Log in to hide this message.