Theale Green School art student wins design competition and gets work in Theale Community fire station lobby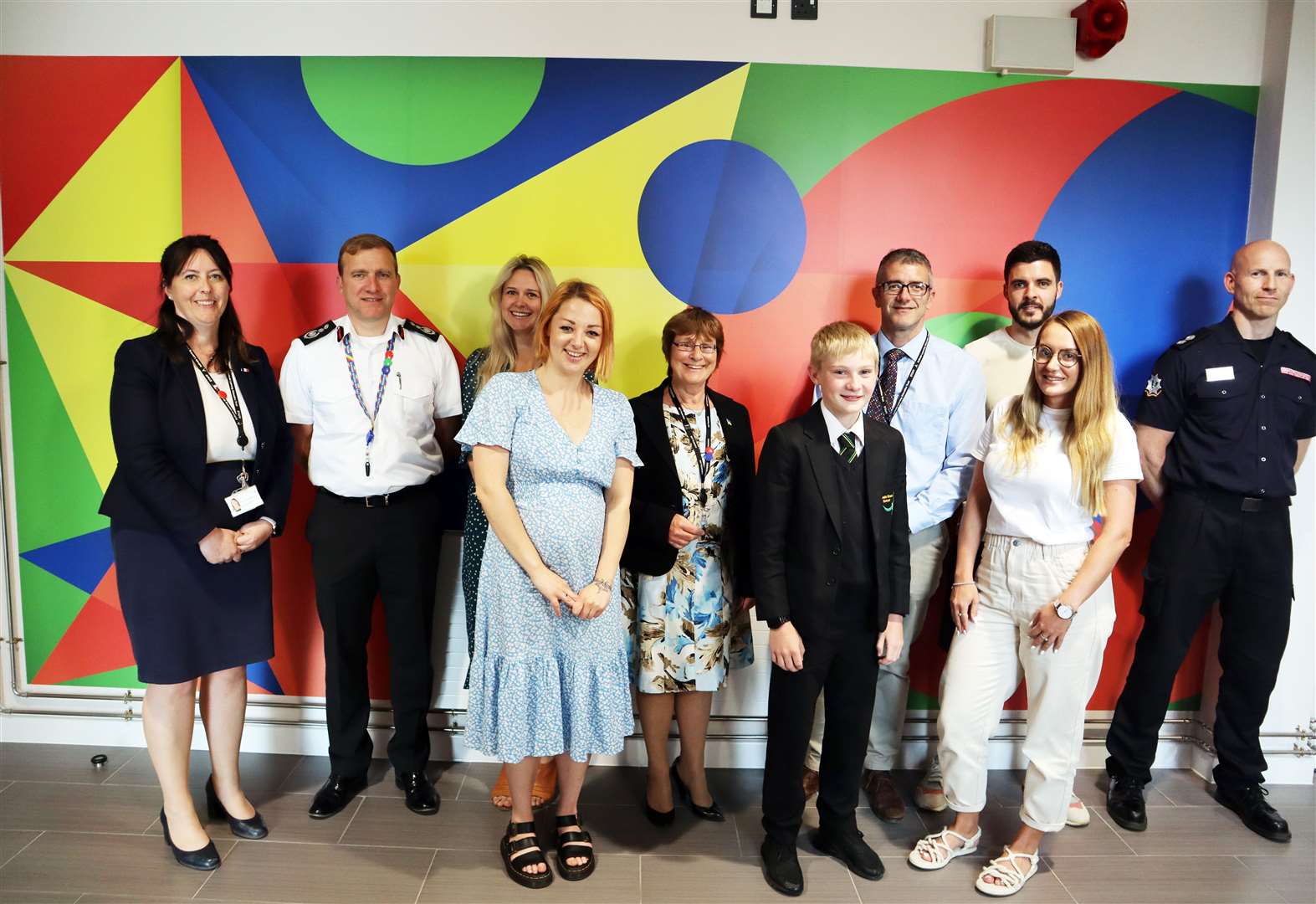 An 8th grade student at a Theale school had his artwork installed in the hall of a fire station after winning the school's design competition.
Theale Green School student Evan Rose visited Theale Community Fire Station on Monday May 23 to see his work in place and he was praised by various members of the fire department.
The competition was held with Year 8 and Year 11 art students, and more than 40 artworks were submitted by students from both age groups.
A panel of fire station and firefighter representatives met in December to decide on a winner.
Deputy Chair of the Royal Berkshire Fire Authority Councilor Pauline Helliar-Symons said: "We were delighted with the contributions from pupils at Theale Green School in this competition, which made the process of very difficult judging, with very fierce competition.
"Overall, we felt Evan's artwork was a fantastic representation of emergency service partners working together from the Theale Community Fire Station. It is very eye-catching and creates a warm welcome for visitors to the station.
Evan's striking design is an abstract representation of the emergency services, with triangles used to symbolize the station as a three-department community fire station and the main colors red, green, yellow and blue representing firefighters, ambulances and police partners.
Evan said of his winning design: "I was amazed how a little piece of paper had come to life on a wall.
"I was proud that something I had created was seen by so many people and that it could brighten their day."
He worked with professional designers from Apple Print and Creative, based in Newbury, who donated their services to help digitally produce Evan's artwork and bring it to life in the new station.
Charlotte Badarello, Deputy Headmaster of Theale Green School, said: "The competition has been an incredible opportunity to bond with the fire station and we are so grateful to have the opportunity to collaborate with our local community. .
"As a school, we are very proud of Evan's incredibly powerful mural, and Mr. Wilson, our Art Director, worked closely with all of the students who entered the competition to produce some fantastic pieces. "
Fire Chief Wayne Bowcock said, "Evan's stunning artwork really brings to life the importance and contribution of local youth and schools to this community fire station.
"The artwork is in plain view for all visitors using the Station's Community Hall and will be on display for the official opening of Theale Community Fire Station, which is scheduled for later this year."
Plans for the fire station were approved in December 2019 and construction began in January 2020.
Theale Community Fire Hall has been operational since September last year, and Theale residents can reserve the community hall at the firehouse for use now.
The station plans to have its official opening to the public this fall.
---
---